Top 20 Most Popular Cutlery Board Designs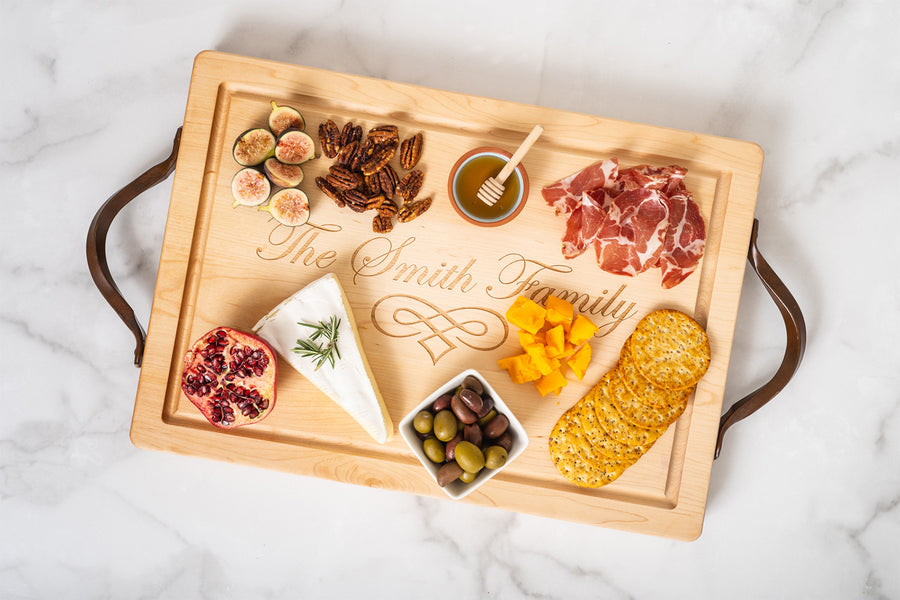 As much as we love to geek out on the functional features of a cutlery board—also known as a cutting board—we think that picking the right design is just as important. After all, if you love your cutlery board, you'll be much more likely to use it. 
Thankfully, our choices aren't confined to just a few simple options. Indeed, there are hundreds of cutlery board designs that will inspire your culinary journey. Here are 20 of our favorite options to get you started. 
1. Light Maplewood Cutlery Board
Maplewood is one of the most popular materials for a cutting board. This is not only thanks to its gorgeous color but also due to its durability, which means that it'll last you a lifetime. Our maplewood cutlery board can make a beautiful addition to your kitchen. 
2. Dark Walnut Cutlery Board
Unparalleled for its elegant appearance, dark walnut is an incredibly popular material for cutting boards. Not only is it stain-resistant thanks to its dark-brown color, but it can perfectly match any kitchen aesthetic. With our black walnut cutlery board, you'll have something gorgeous to display on your kitchen counter all the time. 
3. Clear Tempered Glass Cutlery Board
If you're worried about the thought of shattering glass all over your kitchen floor, then you'll feel better knowing that cutting boards are made with tempered glass—which is highly resistant to scratching, cracking, and breaking. In addition, it looks incredibly sleek and modern, which makes this cutlery board perfect for doubling up as a serving plate. 
4. White Marble Cutlery Board
Is there anything more regal than the look of white marble? While we're used to seeing it in statues, there's no reason why it can't be used on a cutting board. While it can be a little rough for your knives—which can dull significantly when used to cut on marble—this is a great cutlery board design that will elevate any kitchen aesthetic. 
5. Brightly-Colored Silicone Cutlery Board
Silicone cutlery boards are well-known for being easy to clean. Unlike wood, these can be thrown in the dishwasher without any worries that they'll be ruined by the hot water. Another thing we love about silicone cutlery boards? They come in a variety of colors, which can add a bright pop to any kitchen. 
6. Paddle-Shaped Cutlery Board 
While rectangular cutlery boards are the most traditional option, there are other shapes to play around with. One of our personal favorites is a paddle-shaped cutlery board, which can double as a pizza peel for making restaurant-quality pizzas—in addition to other baked goods. 
7. Wine-Shaped Cutlery Board
There are plenty of cutlery board shapes that are super fun. Case in point: Our L'Chaim Cutting Board that comes in the shape of a wine bottle. You can use it for cutting up your cooking ingredients; however, we'd use this one for serving up bread and cheese at a party so that everyone can enjoy it!
8. Recipe Cutlery Board
Is there anything more special than seeing grandma's recipe every time you enter your kitchen? With a recipe engraving, your cutlery board can be displayed on your wall for the ultimate kitchen décor. Not only is it great for personal use, but it can be gifted to one of your family members. Nostalgia, here we come! 
9. Inspirational Cutlery Board
Instead of hanging an inspirational poster on your wall, why not engrave an inspirational quote on your cutlery board? What we find inspiring is highly individual, which makes the personalization option from Sophistiplate such a great feature. However, if you want something pre-made, then our "grateful, thankful, blessed" cutlery board will make the perfect addition to your kitchen.
10. Colander Cutlery Board 
Some cutlery boards have built-in features that make cooking much easier. If you get annoyed by having to run between your kitchen counter and sink to wash your produce, then you'll love having a built-in colander. You can place the cutlery board over the sink while rinsing your produce and being able to cut it in the same exact space. 
11. Folding Cutlery Board
Have you ever tried to transfer a bunch of chopped veggies from a cutlery board to a pot? This is pretty much guaranteed to get your ingredients falling into places they're not supposed to be in. However, a folding cutlery board—by folding into a chute—can significantly simplify this process and help you get your ingredients exactly where they belong. 
12. Bread-Slicing Cutlery Board
Getting a loaf of bread perfectly sliced is no easy task. With this cutlery board, you'll get some assistance to make sure your bread slices come out picture-perfect. This type of cutlery board contains grooves that are evenly spaced apart for guiding your knife to exactly where it should go.  
13. Over-the-Sink Cutlery Board
If you're working with limited kitchen counter space, then you need a cutlery board that can be used in other places—such as the sink. A cutlery board that can fit over the sink will allow you to not only save on kitchen space but to have easy access to water for washing your fruits and veggies. As a plus, you can easily discard what you don't need in the garbage disposal. 
14. Cutlery Board With a Garbage Tray
If you don't want to keep running between your kitchen counter and garbage bin to get rid of what you don't need, then you need a cutlery board with a built-in garbage tray. This type of cutlery board is super thick and contains compartments inside that can hold all the food scraps that you don't need. When you're done cooking, you can remove the trays and clean them out. 
15. Cutlery Board With Storage
If you like to work on elaborate dishes that require many ingredients, then you're certainly no stranger to a messy kitchen. If you arrange a mise-en-place—which describes how chefs lay out their ingredients in front of them—then you might be washing many dishes after you're done cooking. That's hardly our idea of fun after all that hard work!
To address this issue, some cutlery boards have several built-in "drawers" that slide out and allow you to store your chopped-up produce. So, when you're done chopping up an ingredient—like a pungent onion—you can slide it off the cutting board and into the compartment. You can then begin working on another ingredient while keeping your kitchen clutter-free. 
16. Cutlery Board With a Knife Sharpener
A sharp knife makes cooking that much easier! With a built-in knife sharpener, some cutlery boards will serve as a constant reminder to maintain your knife's blade. While a regular knife sharpener is just as effective, it still adds to kitchen clutter. Thankfully, this handy attachment will keep things as minimalist as possible. 
17. Measuring Cutlery Board
There are many different types of cuts for your ingredients—such as julienne, batonnet, and many more—which have a significant impact on how your recipes turn out. If you have a tendency to forget what these look like, then a cutlery board with measurements for the different types of cuts can go a long way in making sure that your culinary creations come out perfect every time. 
18. Carving Cutlery Board
This type of cutlery board has a rack inside of it that can be used for holding whole roasts of meat while slicing them. If you want a cutlery board that allows you to cut the perfect slices of pot roast—or any other type of meat—then you'll readily whip out this cutlery board at dinner time. 
19. Cutlery Board With Electronic Attachment
Let's face it: very few of us have recipes memorized. Instead, we have to follow pre-made recipes step-by-step to create our culinary masterpieces. However, the last thing we want to do is to keep our laptop or phone next to our messy cooking station. Thankfully, this type of cutlery board has an attachment for your electronics with an acrylic sheet that prevents any splattering from occurring. 
20. Charcuterie Board
While it's not technically a cutlery board, it can certainly be used to chop up your cooking ingredients every once in a while. However, we prefer to keep it in line with its traditional uses: Making delicious charcuterie spreads. 
A Cutlery Board as Unique as You 
Choosing a cutlery board design is an incredibly fun process that allows you to get in touch with your creative side. Once you find your perfect cutlery board, we're sure that your cooking will become that much more enjoyable! For a cutlery board that's as unique as you, check out this selection of beautifully-designed cutlery boards from Sophistiplate. 
Our Sources: 
The Right Cutting Board Can Keep Your Knives Sharper | The New York Times
How to Organize Your Kitchen Like a Professional Chef | The New York Times 
Kitchen Language: What Are The Basic Knife Cuts? | Michelin Guide 
---